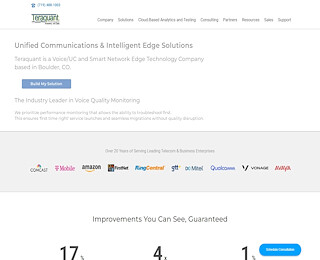 Get the Best VoIP Monitoring
One of the key factors for the success of any company is to have an excellent telecommunications system. Smooth communications allow for excellent teamwork of your staff and excellent interaction with your customers. Today, there are technologies like VoIP that allow advanced telecommunications systems at much lower costs than traditional landlines.
However, one of the challenges of having these new platforms is to keep up the quality of calls. To achieve a reliable and quality IP-based telecommunications system, it is wise to have a top-of-the-line VoIP monitoring tool to manage your data and communications network. It is essential you learn more about these monitoring systems so that you know why they are essential for the benefit of your business.
Top-7 FAQs About Top VoIP Monitoring Software
What is it?
These are top-of-the-line management services that offer comprehensive visibility into your VoIP network and its performance. These monitoring tools check for VoIP quality, server issues, traffic, user devices, and communication problems that may occur. It provides the information and metrics needed to proactively address any issues in your VoIP network.
How Does it Work?
To manage your VoIP network, a unified communications (UC) management tool is used. These solutions detect any issues that may affect users and communications between them. Packet loss, jitter, and VoIP latency are three of the most common issues, and UC helps resolve them in no time. For example, Teraquant uses Oracle Enterprises Operations Monitor (Oracle EOM) for its customers, which enables reliable networks, reduces operating costs, increases user satisfaction, and prevents voice fraud.
Can VoIP Calls Be Monitored?
Yes. One of the great advantages of VoIP telecommunications is conversations are converted into data. This allows a VoIP management service to easily check, search and even record and store conversations. It all depends on the needs and the levels of security set by the customer.
How is VoIP Call Quality Measured?
The International Telecommunication Union (ITU-T) developed an official method for rating voice calls, the MOS (Mean Opinion Score). It uses a scale of one to five (five is best.) to test the quality of calls, through a human rating. While digital communications tend to have the highest ratings, VoIP management services will make sure your communications always get the best ratings.
What is VoIP Testing?
This is a procedure that allows you to check the integrity of the Internet connection and the quality of voice data transmissions. To do this, the greatest VoIP management providers use different variables, like the stability and speed of the connection.
What Are The Benefits of Monitoring?
With a VoIP management system, you will significantly improve telecommunications between your team and outside the company. For example, customers who rely on Teraquant experience 37% average operational cost savings, 9x reduction in trouble ticket resolution time, and 2.1% average annual churn reduction, among others.
Is the Service Expensive?
The cost of managing your VoIP will depend on the size of your network and the specific needs of your company. However, it is a cost-effective solution since having top-notch telecommunication will significantly increase your company's profitability rates. If you want to have the best supervision of your VoIP, you can count on the best: Teraquant. Let the specialists give you world-class service. Contact Teraquant for unified communications & intelligent edge solutions.